11-8-2017 8:25 PM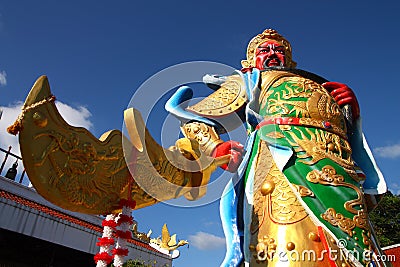 TUBAN, INDONESIA (Reuters) - Indonesia has urged officials to stand up to mob pressure after Muslim and nationalist protesters called for a 30-metre-tall (100-ft-) statue of a Chinese deity erected in a temple complex in an East Java town to be torn down.
The brightly-painted statue of Guan Yu, a former general who is worshipped by some Chinese, was inaugurated in July in a temple complex in the fishing town of Tuban and is claimed to be South-east Asia's tallest such representation of the deity.
The statue in Tuban, about 100 km (60 miles) west of the city of Surabaya, has been partially covered up after the protests, provoking both praise and ridicule on social media in the world's most populous Muslim-majority country....
http://www.straitstimes.com/asia/se-asia...1502450384