14-8-2019 5:37 PM
Protest group asks for understanding after clashes in which a reporter and policeman were attacked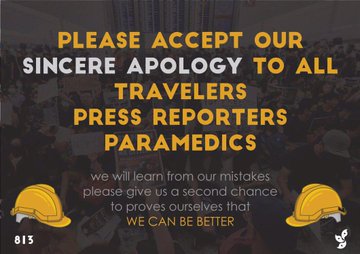 Hong Kong protesters have apologised to the public for the chaos caused at the city's airport, one of the world's busiest transport hubs, after demonstrations brought flights to a halt for two consecutive days and stranded thousands of visitors.
One protest group asked in a lengthy statement for understanding, saying protesters chose the airport as a forum for demonstration only because they no longer felt safe protesting in public due to police violence.
The group apologised for clashes on Wednesday, in which police armed with batons and pepper spray clashed with thousands of protesters, saying that "after months of prolonged resistance, we are frightened, angry and exhausted. Some of us have become easily agitated and over-reacted last night."
In messages posted online, protesters apologised to reporters, paramedics and travellers and vowed to "learn from our mistakes".
https://www.theguardian.com/world/2019/a...t-violence
PRC Falungong Commie Hanjians (The Dogfather, Oneworld, rat28, Schroder, ola, SAMSENGKIA, sdecww, Obamao, tiunelomo, MrMarket, p1acebo)